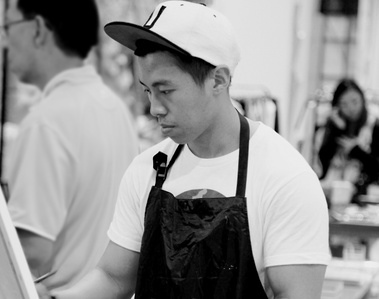 Damien Soh (b.1988), more popularly known as Amien, is a visual artist based in Singapore. His artworks are immediately recognisable for their dream-like quality and touches of surrealism, giving birth to a fantasy Universe filled with characters both familiar and unknown.

Amien's creations stem from an alternate reality existing within his mind, built upon his experience growing up in Singapore– a city both highly modern yet filled with traditional and oriental influences. Drawing from that breathing, living world, he translates these visions into abstractions of colour, before refining them with obsessive technicality resulting from his years of teaching and practising in both the traditional and digital medium.


With a specialty in conceptualising new worlds and portraiture, Amien's portfolio has seen a focus on digital paintings in recent years. He has also dabbled in alternative forms of presentation, such as a triptych printed on skateboards for a piece commissioned by Wise Singapore. In 2018, he received widespread recognition for the conceptualisation and execution of a short animation feature titled Pagoda of Peril for Universal Studios Singapore as the Lead Illustrator. His skillset has also enabled him to take on freelance work with multinational corporations such as Unilever on multiple brand campaigns, handling roles like Art Direction and Storyboarding.

Holding to the belief that constant practice is key to mastering illustration regardless of age, Amien co-founded Art Attic in 2018, running illustration classes for adults. The studio saw 260 students pass through its doors within its 1.5 years of operation.
Currently, his work considers the juxtaposition of traditional rituals in the frontier of a digital age, a reflection of the city he resides in.

Resume
Transferwise
Commissioned Artwork
OUTSIDER
key visual illustration
Ribena
Key visual artist for chinese new year campaign2020 (New year new hue)

LUX
Illustrator for advertorial Animatics
PONDS Beauty Serum
Illustrator for advertorial Animatics
Shiseido Senka
Key Illustrator for Senka Glow-O-clock animation feature
NETFLIX
Key visual support for "The Stranded"
Universal studio Singapore
Pagoda of Peril (Illustration for animated featurette)
Michelob Ultra
Chinese new year Campaign illustration
Onitsuka 50th Anniversary
Collaborating Artist featuring Onitsuka Tiger classic shoes
Asian Civilisation museum
Key visual for Art after dark

Key visual for Wanderland
Kapok X Lumio (Stories Illuminated call for submission) Winning submission "La Lumiera"
Culturepush (Artist Feature)
http://culturepush.com/2017/03/05/spotted-amien/
Singaplural
Live painting @ Absolut Vodka installation
Cointreau X Jemma Wei
"Cointreau Creative crew"
Pop-up Workshop @ The rabbit hole

Glitch Singapore
Group Exhibition.
"game of thrones"
Knuckles & Notch
Group Exhibition.
"Ways of being"
Vancouver Art book fair
Kult
Group exhibition.
"Little house of Horror"
Naiise
Artscape @ Orchard Central
"Pop-up Workshop"
Miniature Painting @ The Cathay
"pop-up Workshop"

Ogilvy & Mather
Castrol
Butter Factory
Acrylic painting 1mX1m
"Animal spirit"
Front Row Singapore
Karenwalker candy bar Pop up
(Set installation)
Headline Seoul
Windowdisplay Prints
Quincy Hotel
Artjam event facilitator / Instructor


Resorts World Sentosa
Maritime Museum Illustration
Contact me

+65 – 9187 9866